Multivitamin Women 18+
Daily Nutrition for Women over 18 years
Sale price

Rs. 699.00

Regular price

Rs. 999.00

Unit price

per
Save 30%
India's 1st Vitamin formula sourced ONLY from Plants
Vegetarian Capsule shell
60 Capsules (30 day pack)
100% Plant. No side effects
Researched by doctors, nutritionists
FSSAI & GMP approved
How to Use?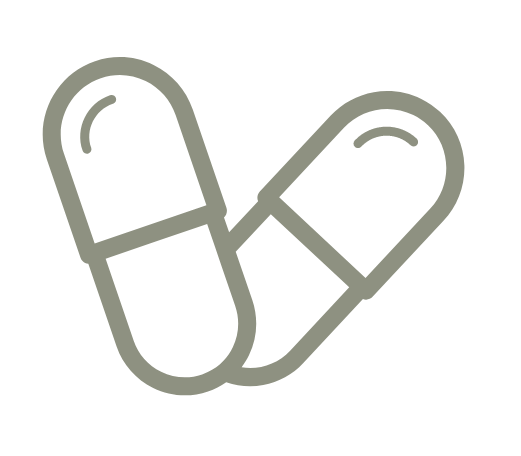 2 Capsules must be taken daily.
Take them any time of the day. Ideally, maintain a minimum time gap of 1 hour after any meal.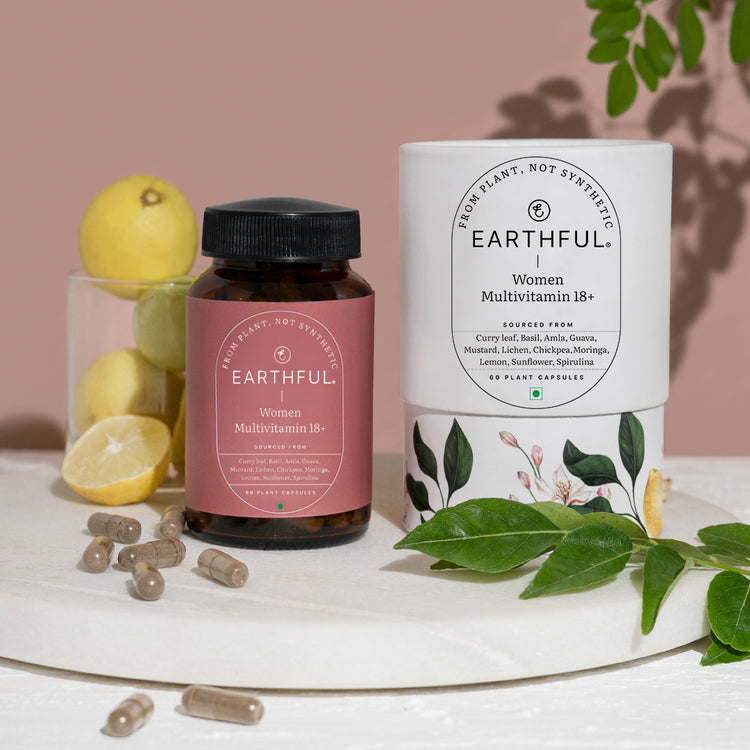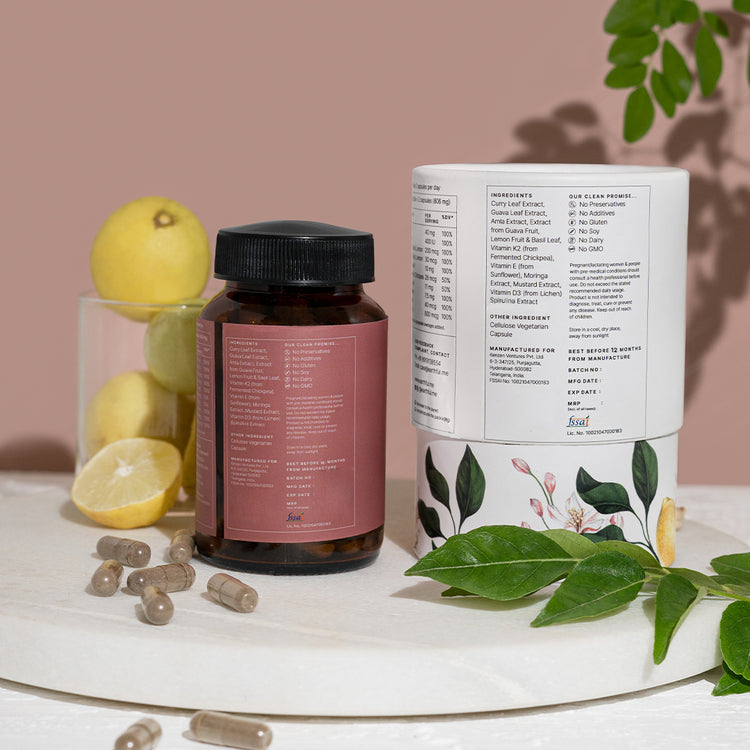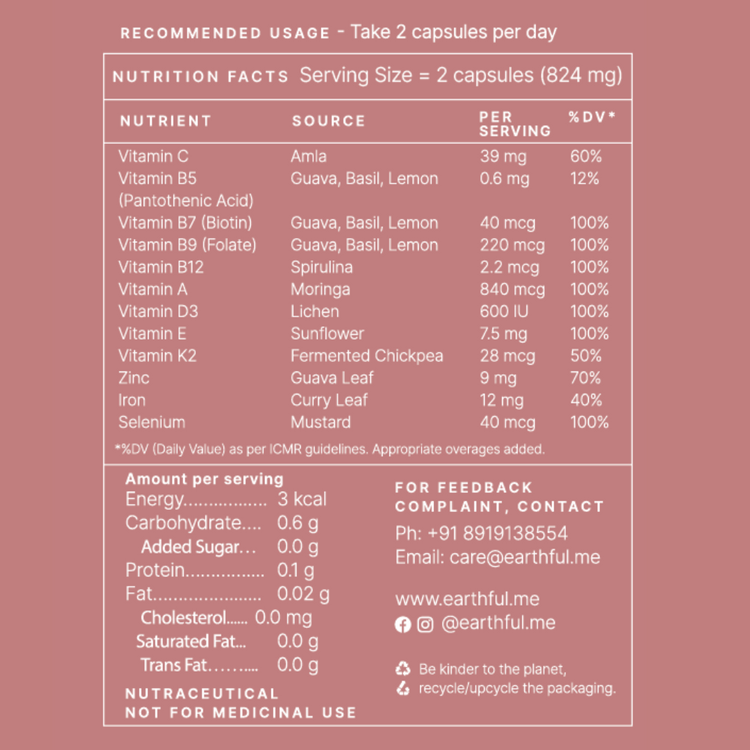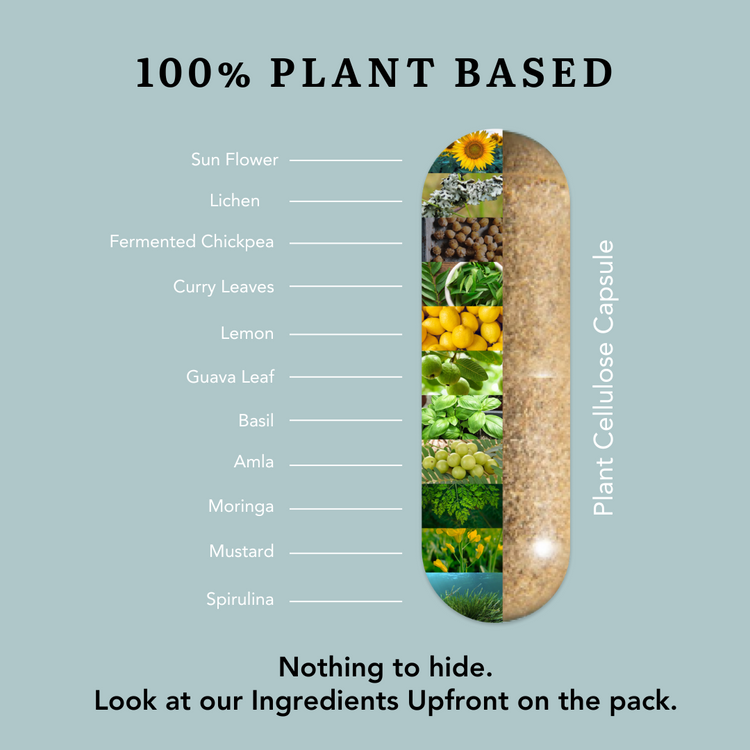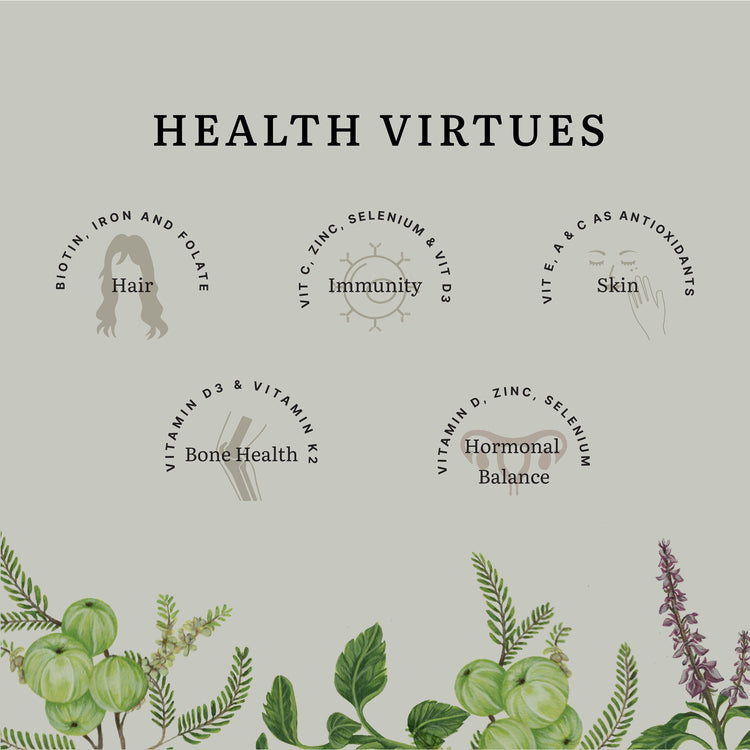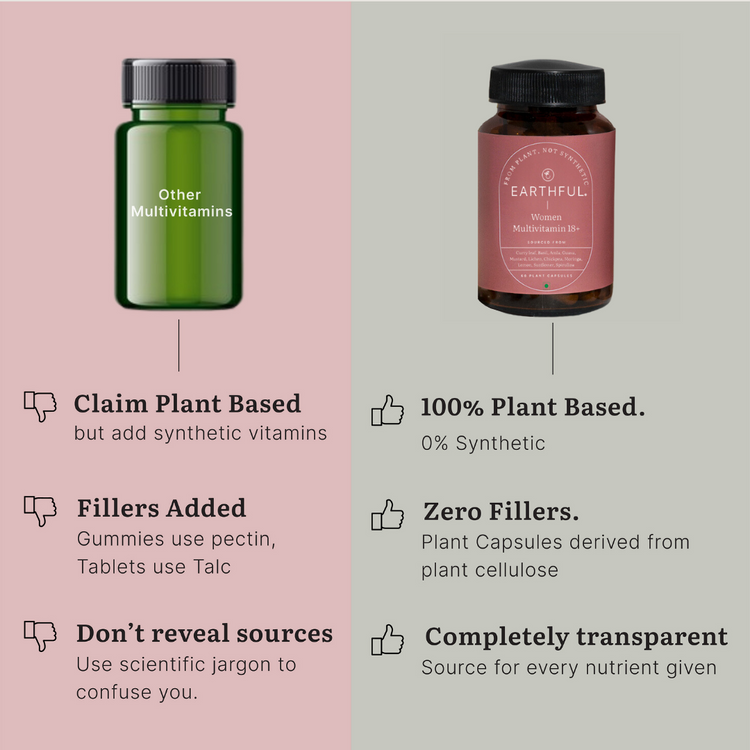 See through Us!
We uphold transparency right from selecting our ingredients to the point they reach you. Rest assured, you will know as much as we do. Not any less.
Vitamin B12

|
from
Spirulina

×

Vitamin B12

Spirulina | Arthrospira platensis

|

INTRODUCING THE SOURCE

Spirulina is a blue-green algae that is found in both fresh & salt water. It is high in Protein, Vitamin B12 and many other Essential nutrients!

DID YOU KNOW?

Spirulina is such a powerhouse of nutrients that it was given by NASA to astronauts to strengthen Immunity.

×

IRON

THE BLOOD-BUILDING MINERAL

FORM - FERROUS BIS-GLYCINATE | SOURCE -CURRY LEAF

|

INTRODUCING THE SOURCE

Curry leaves, mumma's favourite kadi pattas somehow always makes it to indian recipes. They are extremely nutritious, banked with multiple vitamins and minerals, especially iron.

DID YOU KNOW?

Iron is the 4th most abundant mineral in the Earth's crust. Yet, Anaemia affects 2.36 billion individuals globally, especially women and children

×

VITAMIN D

The Sunshine Vitamin

FORM-CHOLECALCIFEROL(D3) | SOURCE-LICHEN

|

INTRODUCING THE SOURCE

With the medicinal properties of lichens, sneek in little goodness in your diet. Get your Vitamin D3's from the only natural and vegan source, algae. Also the most sustainably farmed food available.

DID YOU KNOW?

Guilty about consuming fat? Good news for you! We need that bit of fat for better absorption of Vitamin D

×

VITAMIN C

The Citrus Repairer

FORM-ASCORBIC ACID | SOURCE-AMLA

|

INTRODUCING THE SOURCE

Amla - one of the obsessions in Indian homes, and for good reasons. Amla is incredibly rich in iron and calcium and is the richest source of Vitamin C. Packed with goodness, you see!

DID YOU KNOW?

Vitamin C was discovered when ships were stranded in winter and men got Scurvy. One troop was saved by a drink made from Indian bark, later on found to be rich in Vitamin C

×

ZINC

THE IMMUNITY BOOSTER MINERAL

FORM ZINC GLUCONATE | SOURCE GUAVA LEAF

|

INTRODUCING THE SOURCE

Guava leaves are powerhouses of nutrients, yet those nutrients stay unavailable to you as guava leaves cannot be consumed as it is. Thus, reap all their health benefits through them as a source of zinc in our multivitamin.

DID YOU KNOW?

Zinc can be found in anything from batteries to sunscreen, from paints to airplanes or cars. It's the second most common trace metal, after Iron, found in the body.

×

SELENIUM

THE MIND'S COMPANION

FORM SODIUM SELENATE | SOURCE MUSTARD SEEDS

|

INTRODUCING THE SOURCE

The pungent nutty mustard is indeed beloved to Indian mothers. Mustard transforms into a science-backed savior as it is abundant in selenium and is known for its highly anti-inflammatory effects.

DID YOU KNOW?

Selenium was wrongly accused as a culprit for livestock poisoning and for causing what was called the alkali disease. This error was later rectified & recognised as an essential trace mineral nutrient.

FOLATE

|
from
Lemon, Basil & Guava

×

FOLATE

THE ANEMIA FIGHTER

FORM-FOLIC ACID | SOURCE - GUAVA FRUIT, LEMON FRUIT, BASIL LEAVES

|

INTRODUCING THE SOURCE

We derive folic acid from guava fruit, lemon fruit and basil leaves. The trio is not just rich in folate, but also other nutrients such as Vitamin C, Biotin (Vitamin B7), antioxidants and fiber. Holistic nutrition for wholesome health!

DID YOU KNOW?

Folate is important business. From pregnant women's health to preventing birth defects to helping fight off malaria in children, Folate has many roles to play.
BIOTIN

|
from
Lemon, Basil & Guava

×

BIOTIN

YOUR SKIN & HAIR HERO

Form D-Biotin Source - Sesbania gradiflora | GUAVA LEAVES, LEMON LEAVES, BASIL LEAVES

|

INTRODUCING THE SOURCE

Locally named as agathi leaves, it is power packed with various nutrients thereby providing incredible health benefits.

DID YOU KNOW?

VITAMIN K2

|
from
Fermented Chickpeas

×

VITAMIN K2

The Backend Support

FORM-MENAQUINONE(MK7)|SOURCE-FERMENTED CHICKPEAS

|

INTRODUCING THE SOURCE

The form of K2 MK7 we use is made by fermentation and this has better bioavailability than the other forms available.

DID YOU KNOW?

Vitamin K2 was discovered as 'Activator X,' the missing ingredient for tooth and bone health. Still, till date, there's lot more left to discover about the vitamin.

×

VITAMIN E

The Skin's Warrior

FORM D-ALPHA TOCOPHEROL | SOURCE SUNFLOWER

|

INTRODUCING THE SOURCE

There are 2 forms of Vitamin E - Natural (d-alpha ) & Synthetic form (dl-alpha). We use the natural form sourced from Non-GMO Sunflower. The natural form is more biologically active.

DID YOU KNOW?

Vitamin E's scientific name, Tocopherol is split as Tokos i.e offspring and Pherein which means 'to bear.' This is because the vitamin was first identified as essential for fertility!

×

VITAMIN A

THE EYE NOURISHER

FORM RETINYL ACETATE | SOURCE MORINGA

|

INTRODUCING THE SOURCE

Moringa is commonly known as the miracle tree. All its parts have remedial properties! Besides, moringa provides 10 times more Vitamin A than carrots and so, is the perfect source for the vitamin.

DID YOU KNOW?

According to UNICEF, Vitamin A deficiency is one of the leading cause of preventable childhood blindness.
Why Earthful's Multiviamin for Women?
|
To Meet You Daily Iron, You Need 9 Cups Of Spinach.
Spinach is not the only source of Iron, but this shows how our lacking diets fail us daily.
Earthful Multivitamin is scientifically backed. Formulated after studying diet gaps of Indian women.
100% Plant Derived. Nothing Artificial. No side effects.
We believe in transparency. All our ingredients are listed on the front of the pack.
Read full research here>>
Let's clear your Doubts!
Earthful is the only reliable brand in the market which makes 100% plant multivitamin. There are brands which call themselves "Plant-Based'' but when you look at the back of the pack you will find that synthetic vitamins are being used. On the other hand, we clearly list the sources of the vitamins for you to understand. The ingredients are always kept apparent for you so that you don't need to worry about the side-effects of synthetic ingredients by consuming Earthful.

You should consume it daily. Women need to consume a daily dose of vitamins, minerals to stay healthy. Due to our lifestyles, we are unable to get them. Therefore, we have created this plant multivitamin to help bridge your daily nutrient gap.

A multivitamin maintains health in the long term. It ensures that you get your daily dose of nutrients & not develop any deficiencies. Some people see visible differences and some don't, which is also fine. What is important is how well your body is nourished from within to ensure its smooth functioning. Continue to use the capsules for 4-5 months till your body signals improvement.


Please take 2 capsules daily. Take them any time of the day. Ideally, maintain a minimum time gap of 1 hour after any meal.


Changing your address is pretty easy. Just follow these steps: 

STEP 1: Log into your account & click on view & edit Subscriptions. 

STEP 2: Select your subscription & hit "Manage Subscription" to edit it. Your current Shipping address will be visible on the right side of your screen! 

STEP 3: Click on "Change". You'll now be able to update your Subscription address. 

STEP 4: Enter your new address & hit save! 

Your order will now be shipped to your new address :)

STEP 1: Log in to your account & click on the option, "View & Edit Subscriptions". 

STEP 2: Once you do that, your subscriptions will be displayed. Choose the subscription whose date you want to change & click on "Manage Subscription". 

STEP 3: Your Next Order date will be displayed on the right side of the page. Click on "Change" and select your new subscription date! 

There it is - you've successfully changed your order subscription date! 

Canceling your subscriptions is pretty easy. 

STEP 1: Log into your account & navigate to your Subscriptions. 

STEP 2: Choose your Subscription & select "Manage Your Subscription"

STEP 3: Hit the "Cancel Subscription" option on the bottom of the screen to cancel your subscription. 

There you go! You can always subscribe to a product again on that specific product page :)  
hi .. i am not using cause i am a lactating mother.. i dint know they are contradicted in pregnant n lactation mothers
Question
I am 31 years old, is it ok to use multivitamins and hair growths of 18+ age because I couldn't find for women 30
Thanku so much earthful...
నేను మీకు ఎలా చెప్పాలి నాకు experiance, ఈ మెడిసిన్ వాడుతున్నప్పటి నుండి.. నాకు health చాలా బాగుంది, నీరసం తగ్గింది... రోజంతా active గా ఉన్నాను
Thanku thanku... 🙏🙏🙏🙏🙏 almost 18 days onwards iam using this...
Very good but please change the packing as glass bottle broke easily
Very good multivitamin....feel more energetic now..but my bottle broke so plz change that packaging for safe use