Healthy Bones
With Calcium, Magnesium, Vitamin D3 & K2
Sale price

Rs. 499.00

Regular price

Rs. 699.00

Unit price

per
Save 28%
India's 1st Vitamin formula sourced ONLY from Plants
Vegetarian Capsule shell
Over 18 years of age
60 Capsules (30 day pack)
100% Plant. No side effects
Researched by doctors, nutritionists
FSSAI & GMP approved
How to Use?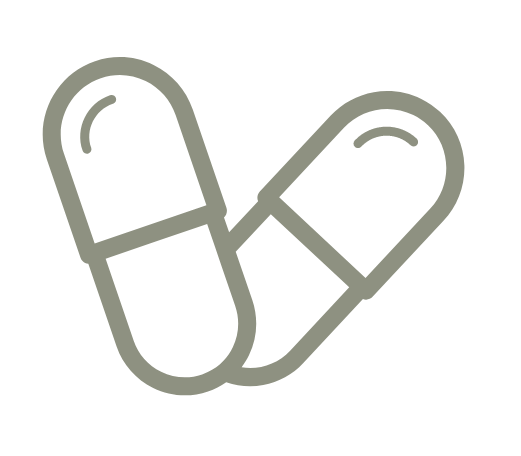 2 Capsules must be taken daily.
Consume it with breakfast, lunch or dinner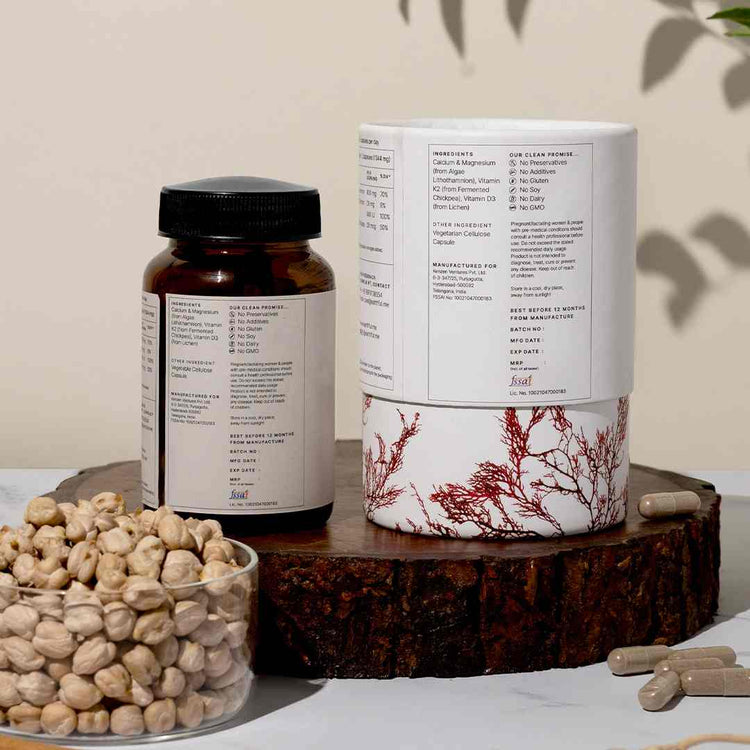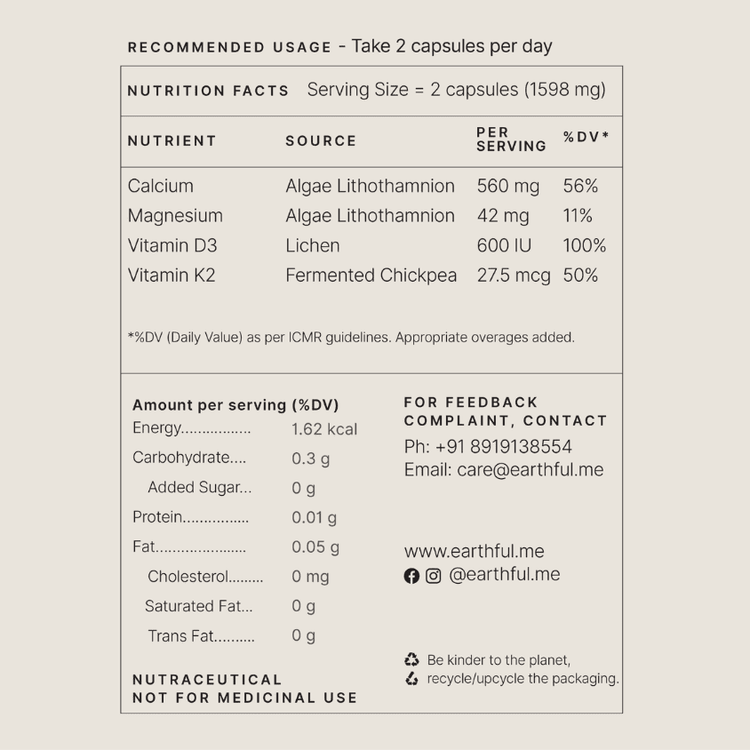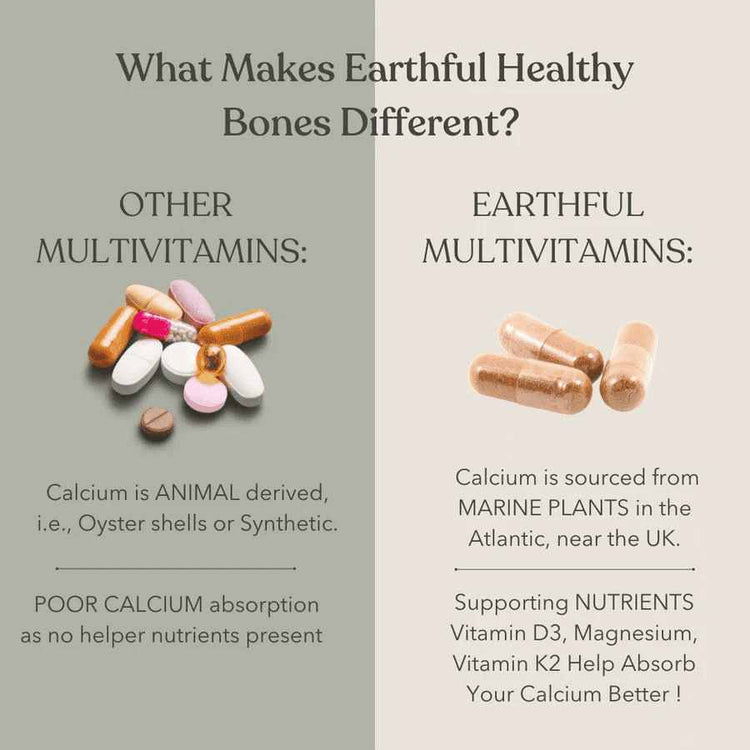 See Through Us !
We uphold transparency right from selecting our ingredients to the point they reach you. Rest assured, you will know as much as we do. Not any less.
×

Vitamin D3

The Sunshine Vitamin

FORM-CHOLECALCIFEROL(D3) | SOURCE-LICHEN

|

INTRODUCING THE SOURCE

With the medicinal properties of lichens, sneek in little goodness in your diet. Get your Vitamin D3's from the only natural and vegan source, algae. Also the most sustainably farmed food available.

DID YOU KNOW?

Guilty about consuming fat? Good news for you! We need that bit of fat for better absorption of Vitamin D

Calcium

|
from
Algae Lithothamnion

×

Calcium

The Bone Savior

Form - Calcium Carbonate | Source -Algae Lithothamnion

|

INTRODUCING THE SOURCE

Say yes to this red marine algae for a plant based calcium source for your strong bones.

DID YOU KNOW?

Calcium from plant based sources is better absorbed by your body then that from the sources.Vitamin D is essential for its absorption as vitamin C for iron.

Magnesium

|
from
Algae Lithothamnion

×

Magnesium

Magnifies the bone strength

Form - Magnesium | Source - Algae Lithothamnion, Marine Salts

|

INTRODUCING THE SOURCE

Not just calcium but also magnesium plays a crucial role in bone health. Meeting your body demands of magnesium can make your bones, heart and nerve health. Adding this to your diet can help you reap its benefits.

DID YOU KNOW?

Been stressing a lot? Beware you might be diminishing your magnesium levels by stressing out.

VITAMIN K2

|
from
Fermented Chickpeas

×

VITAMIN K2

The Backend Support

FORM-MENAQUINONE(MK7)|SOURCE-FERMENTED CHICKPEAS

|

INTRODUCING THE SOURCE

The form of K2 MK7 we use is made by fermentation and this has better bioavailability than the other forms available.

DID YOU KNOW?

Vitamin K2 was discovered as 'Activator X,' the missing ingredient for tooth and bone health. Still, till date, there's lot more left to discover about the vitamin.
Why Healthy Bones Calcium + D3 + K2?
|
To Meet Your Daily Calcium, You Need 4-5 cups of Curd !
Adults suffer from bone problems due to Calcium deficiency. Bones are 99% calcium
Earthful Healthy Bones also contain Vitamin D3, K2 which boost Calcium absorption
It is 100% Plant Derived. Nothing Artificial. No side effects.
Complete transparency. The ingredients are listed on the front of the pack.
Read full research here>>
Let's clear your Doubts!
99% of calcium is present in bones and teeth. Our body cannot make their own calcium and needs to be provided from our diet. When sufficient Calcium is not taken in diet, our body uses calcium from the bones. This makes our bones brittle and fragile in the long run. There is an increase in calcium needs for premenopausal, vegan, lacto vegetarians. Our supplement is created to meet this demand and to reap its benefits you are recommended to consume it daily. 2 capsules a day for your healthy bones.


Bone formation and mineralisation is a continous process and hence we need to take daily supplementation. Some people see visible differences such as decrease in knee pains and some don't, which is also fine.Healthy Bones Calcium + D3 + K2 maintains healthy bones & ensures you don't develop any deficiencies. Continue to use the capsules on a daily basis as part of your routine.

Earthful is the only reliable brand in the market which makes 100% plant based supplements . There are brands which call themselves "Plant-Based'' but when you look at the back of the pack you will find that synthetic ingredients are being used. On the other hand, we clearly list the sources of the vitamins for you to understand. The ingredients are always kept transparent for you so that you don't need to worry about the side-effects of synthetic ingredients by consuming Earthful.


It is recommended to take 2 capsules of Healthy Bones with breakfast, lunch or dinner.

Yes, absolutely! Nutrients in all our supplements are well within the safe limits, so two courses together is totally fine. Just ensure a time gap in the day for the two of them. You can have the multivitamin on an empty stomach before breakfast and the healthy bones with food at dinner.

Changing your address is pretty easy. Just follow these steps: 

STEP 1: Log into your account & click on view & edit Subscriptions. 

STEP 2: Select your subscription & hit "Manage Subscription" to edit it. Your current Shipping address will be visible on the right side of your screen! 

STEP 3: Click on "Change". You'll now be able to update your Subscription address. 

STEP 4: Enter your new address & hit save! 

Your order will now be shipped to your new address :)

STEP 1: Log in to your account & click on the option, "View & Edit Subscriptions". 

STEP 2: Once you do that, your subscriptions will be displayed. Choose the subscription whose date you want to change & click on "Manage Subscription". 

STEP 3: Your Next Order date will be displayed on the right side of the page. Click on "Change" and select your new subscription date! 

There it is - you've successfully changed your order subscription date! 

Canceling your subscriptions is pretty easy. 

STEP 1: Log into your account & navigate to your Subscriptions. 

STEP 2: Choose your Subscription & select "Manage Your Subscription"

STEP 3: Hit the "Cancel Subscription" option on the bottom of the screen to cancel your subscription. 

There you go! You can always subscribe to a product again on that specific product page :)  
The product seems to be very effective for me. I was going through uneasiness around my ankle and knees, it felt like there was no energy around that part. I had been thinking of using this product for the past 6 months but finally bought my first bottle of Healthy Bones and could feel the difference in 2 weeks. I was using VitD supplements of 60000IU twice a month earlier and after taking them I could feel pain near my shoulder area and an uneasy sensation around my foot but after taking these capsules that seems to be decreased.
I just bought my 2nd bottle after seeing the changes in myself.
I feeling comfortable with this earthful product I recommend everyone to use this earthful product.
I highly recommend.thanks
Good health
Does it have magnesium oxide and magnesium stearate, silicon dioxide, manganese sulphate, titanium dioxide, calcium carbonate,coiloical silicon dioxide, crosscarmeliose sodium kindly reply and even show us ingredients in your product.... reply to 9444525666
I really felt lot of relief after using the product . I used to feel lot of pain in my finger joints and knee joints but not anymore..
thank u very much at Earthful