Hair Growth Capsules
With Biotin, DHT Blocker, Quercetin & More
Sale price

Rs. 725.00

Regular price

Rs. 999.00

Unit price

per
Save 27%
7-in-1 All Rounder Hair Solution
Over 18 years of age
30 Capsules (30-day pack)
100% Plant. No side effects.
Formulated by doctors, nutritionists
FSSAI & GMP approved
How to Use?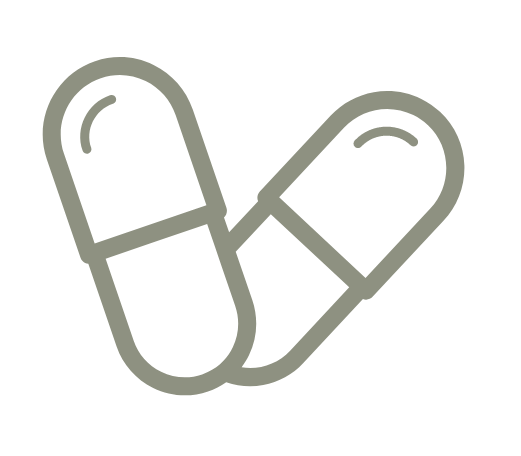 Take one capsule a day, after any meal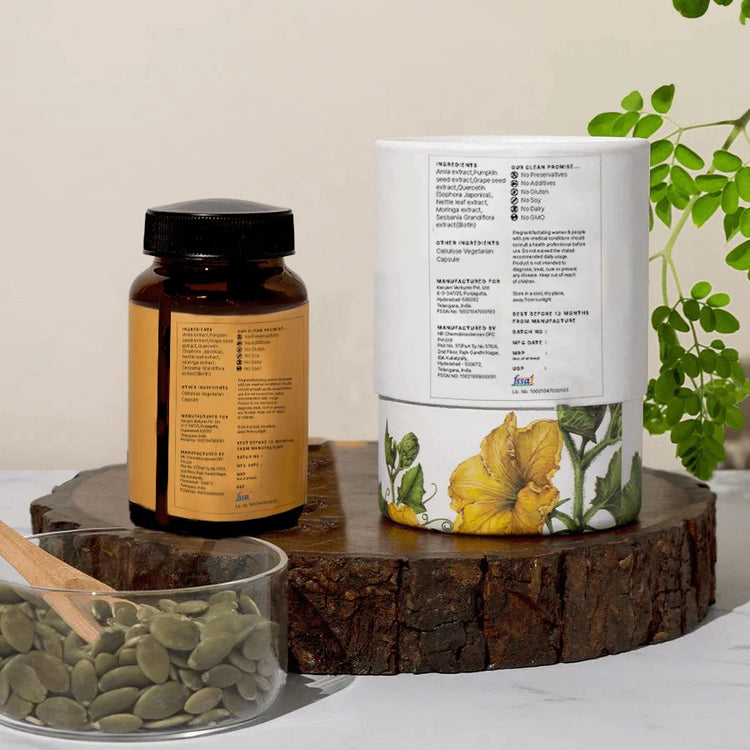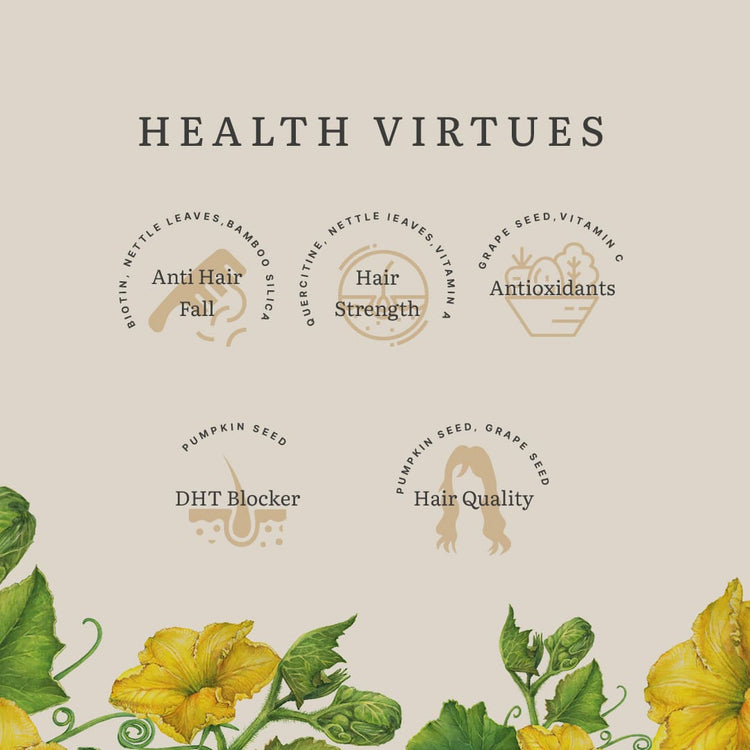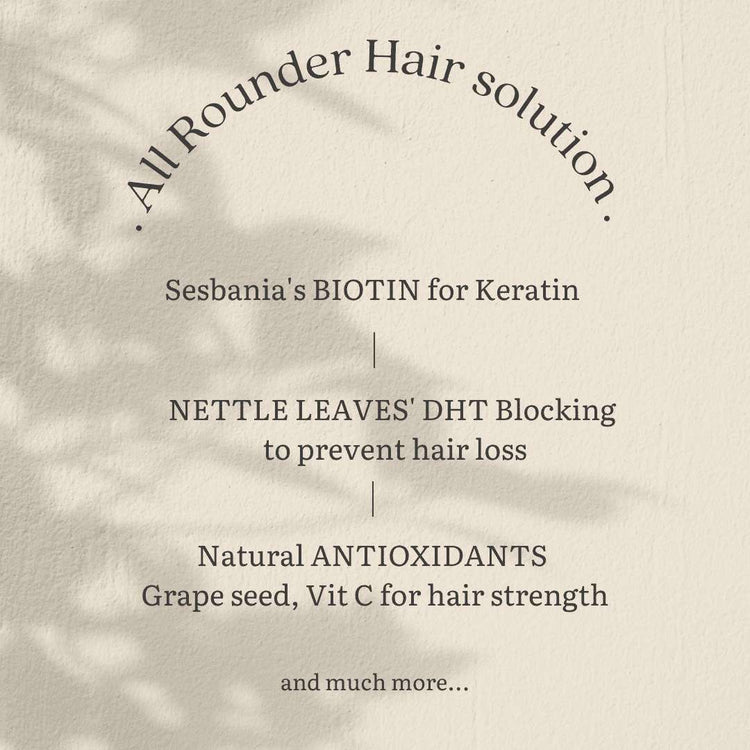 See through Us!
We uphold transparency right from selecting our ingredients to the point they reach you. Rest assured, you will know as much as we do. Not any less.
BIOTIN

|
from
Sesbania Gradiflora

×

BIOTIN

YOUR SKIN & HAIR HERO

Form D-Biotin Source - Sesbania gradiflora | GUAVA LEAVES, LEMON LEAVES, BASIL LEAVES

|

INTRODUCING THE SOURCE

Locally named as agathi leaves, it is power packed with various nutrients thereby providing incredible health benefits.

DID YOU KNOW?

Biotin was first identified as a Nutritive requirement of Yeast. Later discovered to be a requirement for mammals too

×

PUMPKIN SEED

SEED PACKED WITH HAIR GOODNESS

Botanical Name - Cucurbita maxima

|

INTRODUCING THE SOURCE

If you have been throwing this seed into the waste bin then you have been discarding a treasure. These seeds are packed with valuable nutrients necessary for your hair health.

DID YOU KNOW?

Pumpkin seeds were by the archaeologists in the caves of Mexico which date back to 7000 B.C.

×

Vitamin A

THE EYE NOURISHER

FORM RETINYL ACETATE | SOURCE MORINGA

|

INTRODUCING THE SOURCE

Moringa is commonly known as the miracle tree. All its parts have remedial properties! Besides, moringa provides 10 times more Vitamin A than carrots and so, is the perfect source for the vitamin.

DID YOU KNOW?

According to UNICEF, Vitamin A deficiency is one of the leading cause of preventable childhood blindness.

×

VITAMIN C

The Citrus Repairer

FORM-ASCORBIC ACID | SOURCE-AMLA

|

INTRODUCING THE SOURCE

Amla - one of the obsessions in Indian homes, and for good reasons. Amla is incredibly rich in iron and calcium and is the richest source of Vitamin C. Packed with goodness, you see!

DID YOU KNOW?

Vitamin C was discovered when ships were stranded in winter and men got Scurvy. One troop was saved by a drink made from Indian bark, later on found to be rich in Vitamin C

Quercitine

|
from
Sophora Japonica

×

Quercitine

FOR YOUR HEALTHY HAIR

Botanical Name :Sophora japonica Source - Japanese pagoda tree

|

INTRODUCING THE SOURCE

This bitter tasting flower has been widely used as a medicine in Japan, Korea and China. It contains the five main flavanoids namely rutin, quercetin, isorhamnetin, genistein and kaempferol . Quercitin is extracted from the dried flowers and buds.

DID YOU KNOW?

A tree with dark history. A specimen of pagoda tree where the last ruler of Ming dynasty had hung himself is a tourist attraction in China.

×

Grape Seed

THE HAIR NOURISHER

Botanical Name-Vitis vinifera, Source -Red wine grapes

|

INTRODUCING THE SOURCE

Made from the seeds of wine grapes, they are widely promoted as a dietary supplement for various health conditions. It is your one stop solution for shiny, smooth and silky hair.

DID YOU KNOW?

Drop down the idea that eating grapes will provide you the same amount of antioxidants. Extracts are concentrated therefore they provide higher amount of antioxidants.

×

NETTLE LEAVES

HELPS TO KEEP HAIR STRONG LIKE A NETTLE HAIR

Botanical Name- Urtica dioica

|

INTRODUCING THE SOURCE

You might distaste it because it stings but you must develope taste for it. They are packed with antioxidants, vitamin C and vitamin A. It may sting you but you must reap it's benefit.

DID YOU KNOW?

Folklore has it that nettle leaves were the only thing consumed by the famous Tibetan mystic Milerapa during his week long retreat in the forest.
Other Ingredients: Pomegranate powder, Mango powder, Pink Salt, Black Pepper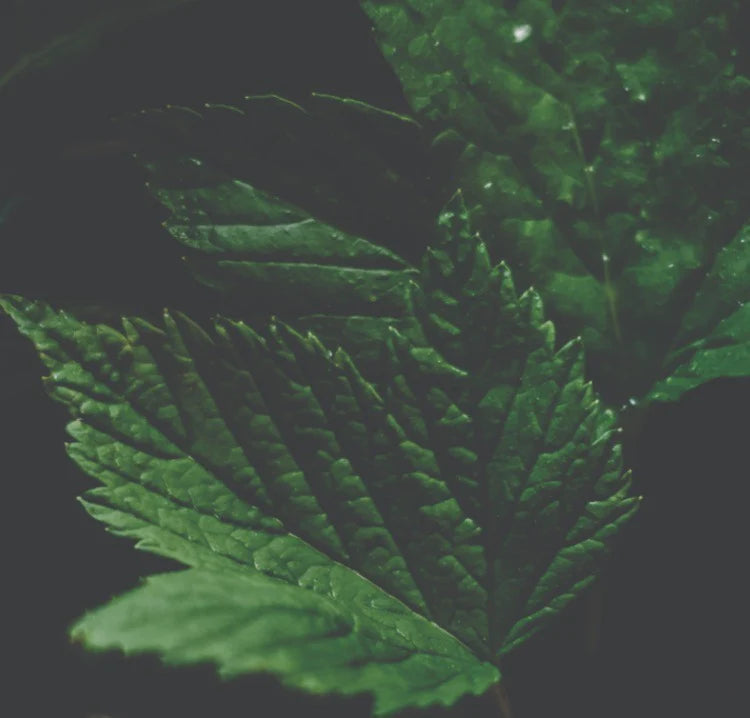 Why Earthful's Hair Growth Supplement?
|
Your hair is a reflection of your diet & lifestyle.
Biotin is an essential nutrient that synthesises Keratin, and nourishes your hair from within.
Earthful's unique blend contains effective herbs that act as DHT Blockers to prevent Hair loss.
Antioxidants such as Quercitine help with strength & growth. All for good hair.
100% Plant Derived. Nothing Artificial. No side effects.
Read full research here>>
Let's clear your Doubts!
Generally, the hair supplements present in the market have only Biotin. On the other hand, Earthful's Hair Growth Capsules have a unique blend consisting of Biotin & effective hair actives such as DHT blockers & Antioxidants. This will improve your hair health from within by reducing hair fall, improving hair quality and strength. There are also brands which call themselves "Plant-Based'' but when you look at the back of the pack you will find that synthetic ingredients are being used. On the other hand, we clearly list the sources for you to understand. The ingredients are always kept transparent for you so that you don't need to worry about the side-effects of synthetic ingredients by consuming Earthful.

1 Capsule (514 mg) daily. It can be taken at any time of the day.

Due to exposure to the harsh rays of the sun and pollution, our hair gets damaged and loses its shine. Treatments such as bleaching, straightening etc. also play their part in damaging the quality of hair. Therefore, it is essential to give your hair the care it needs from within. We recommend you to consume "Hair Growth Capsules" daily to maintain your beautiful hair.

Hair Growth Capsules help maintain hair health inside out. It contains effective hair actives such as Biotin, Quercitin & DHT Blockers to help you have strong hair. Continue to take the capsules for 3-4 months to see visible results in your hair.
Good product
There is an improvement in my hair fall and growth. I want to continue further to get the best result. There should be spatula for correct dose. Also bottle cover is very rigid. So pl check the quality. Otherwise I am happy nowadays....
Taken newly, better to provide spatula for 2.5 gm to measure
Hello ma'am, We have enhanced the convenience of our Hair Growth Blend by converting it into capsules.
"I recently purchased a product(hair growth)from EARTHFUL. Their
website was user-friendly,The checkout process was smooth, and I received my order promptly. The product arrived in excellent condition, exactly as described on their
website. I'm thrilled with the quality and will definitely shop at "Earthful"
again. Highly recommended!"
I am taking this powder today only with water I don't like the taste.
But i wnt to take it because for my hair growth. Want to know the results after one month
Hello ma'am, We have taken your feedback and upgraded the product from powder to capsules. You can find the product using the following link: https://earthful.me/products/hair. We also suggest you use it consistently for 2-3 months.
Hair growth blend i have not started using yet Please let me know how to use